Afinia CP950 Envelope & Packaging Printer
IN STOCK
Prices Exclude VAT

Adjustable media height — accepts material up to 10mm thick
The CP950 Envelope and Packaging Printer is built with Memjet's Sirius print engine, featuring a stationary printhead for ultimate speed, quality, and reliability. The printhead can be raised or lowered, allowing for printing on a range of porous and inkjet-coated media substrates of varying thicknesses (up to 10 mm).
Industrial design and high production speed combine with exceptional image quality to produce full-color prints on a wide variety of media types. Produce vibrant, colorful prints in high resolution up to 1600 DPI. Job sizes from small to large are economical, with five high-capacity 250ml CMYKK ink cartridges delivering an ultra-low cost per print.
To maximise the start of your new machinery why not have your installation done by one of our trained engineers. This includes…
✓ Delivery
✓ Installation
✓ Training
✓ Support
30 YEARS EXPERIENCE
We know everything there is to know about Adhesive Material & Label Printing Machinery!
FAST DELIVERY
We offer FAST delivery on machines and consumables when ordered before 12pm. We aim to deliver all orders within 48 hours.
FINANCE CALCULATOR
Label Printer equipment leasing and finance – spread out the payment of your equipment.
BUY FROM US AND GET
✓ FREE Training ✓ FREE Telephone Support ✓ FREE Print Demonstrations ✓ FREE Wet Proofs
ARE YOU LOOKING FOR LABELS FOR YOUR LABEL PRINTER?
 Magnum stock a selection of standard size rolls of labels for your Label Printer on NEXT DAY DELIVERY. We realise 'standard' is not always what you need so our label team can produce any size, shape and quantity of Labels for your Label Printer – Get in touch 
Features
Take a closer Look
Optional Conveyor System
Extend the functionality and output potential of your CP950 with a conveyor system that neatly gathers printed materials into a stack or drops them into a deep tray for easy collection.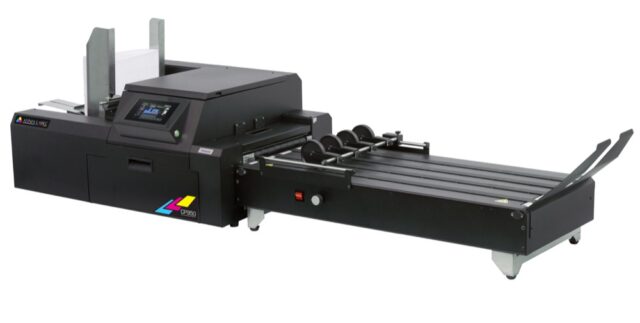 CP950 Plus with Watershield™ Water-Resistant Inks
The CP950 Plus model offers increased water and moisture resistance1.
Watershield inks are significantly more resistant to the effects of prolonged moisture exposure than conventional dye-based inkjet inks. This makes the CP950 Plus perfect for applications that may come in direct contact with moisture. 
This new technology also produces deeper blacks, uses more responsibly-sourced inks2, and helps to prolong the life of the printhead
Media thickness up to 10 mm
Media thickness up to 10 mm
Conveyor output available
Intuitive touchscreen interface
Water Shield
1 Water resistance can be media-dependent. Always test your printed label to be sure it meets your requirements.

2 Watershield™ inks do not contain chemicals that are considered to be harmful to humans or the environment.

3 Memjet tested ejection life internally and found an average above 2X printhead life. Actual results may vary due to factors such as environment and frequency of us
Upload artwork for sample
Customer satisfaction is important to us, thats why we offer samples of your artwork printed on your choice of Label Printer. Dont worry if you dont have your label designed yet – we can help with that to, we have our own in house designer that would be delighted to create your next amazing product label.
Book in for a Demo
Customer satisfaction is important to us, that's why we always welcome the opportunity to show our customers what our machines can do for you.
Demonstrations ensure we are matching you to the most suitable machine fit for the purpose of your business requirement. 
Come and see what the range of inkjet machines can do for you.
Dukinfield, Manchester
Monday-Thursday : 8.30am - 5pm
Friday : 8.30am - 3.45pm
If you would like to come and have a look round and discuss your self adhesive needs
© Copyright Magnum Materials Ltd.  2007-2023.  All Rights Reserved.