We view ourselves as an automation provider with a flexibly upgradable product range that can integrate various optional components. We not only supply the largest range of SCARA robots for the most varied applications, but also six-axis robots, controllers, and software. All our products integrate seamlessly and are easy to operate.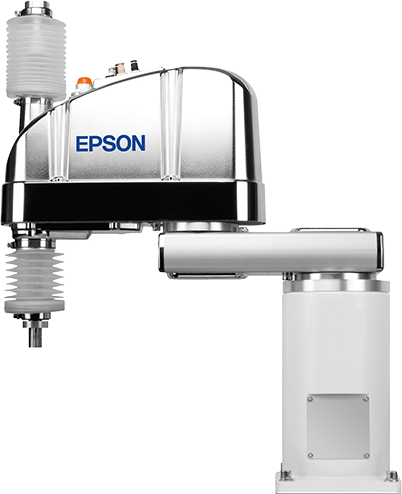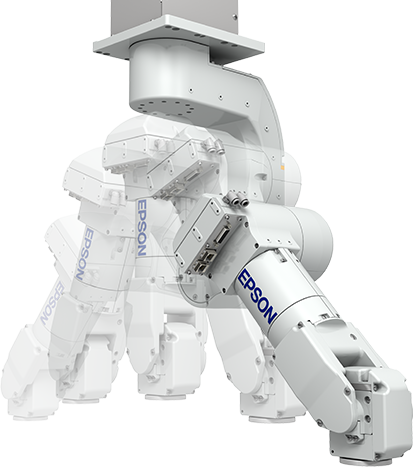 Efficient in every way
Reduced mass but increased power. Optimised efficiency. Compact design but a larger work envelope. We always consider the next evolution.
More power in less space
A slim design and minimised weight lead to considerable savings in operating costs. Compared to previous models, we've reduced our G-Series by 10 percent in height for the latest models. Since our robots have no tubes and the wiring is inside, this design is especially compact.
Larger work envelope
We have increased the working range of our SCARA kinematics by an average 23 percent. The result is an work envelope that's equal to the envelope of competing robots of the next size up.
Higher speed
We've achieved an average increase in axis speed of 20 percent, and a similar increase in payload. Every kinematic has the highest positional accuracy in its class.
High efficiency, low power consumption
All Epson robots stand out for their low power consumption. Electric energy is converted into kinetic energy to achieve the highest efficiency and shortest cycle times.
The Epson concept: take it one step further
Unequalled repeatability. Improved joining properties. Higher insertion forces and speeds. A space-saving design with reduced interference contours. And that's just scratching the surface (which is something our robots won't do, of course).
Try before you buy
Customer satisfaction is important to us, that's why we offer samples of material sent out to you, or if you would like to look at our machines book a visit to our showroom - send your artwork ahead of your visit and we could print your design for you.
30 YEARS EXPERIENCE
We know everything there is to know about Adhesive Material & Label Printing Machinery!
Buy from us with confidence.
GREAT CUSTOMER SERVICE
✓ FREE Training
✓ FREE Telephone Support
✓ FREE Print Demonstrations
✓ FREE Wet Proofs
✓ FREE Samples
FAST DELIVERY
We offer the fastest and most reliable delivery.  We aim to get most products delivered within 24 hours when possible.
Dukinfield, Manchester
Monday-Thursday : 8.30am - 5pm
Friday : 8.30am - 3.45pm
If you would like to come and have a look round and discuss your self adhesive needs