Epson C6500 8″ Colour Label Printers
On-demand colour labelling
Inspired labelling to take your business further. The ColorWorks C6500 8″ Series Colour Label Printers offer speed, control, efficiency and flexibility, allowing you to produce high quality, custom labels time after time.
The C6500 8″ print width (also available in C6000 4″ print width) is available with an optional built-in peeler or auto-cutter to optimise workflows.
C6500Ae with Auto-Cutter
Excluding VAT
C6500Pe with Peeler
Excluding VAT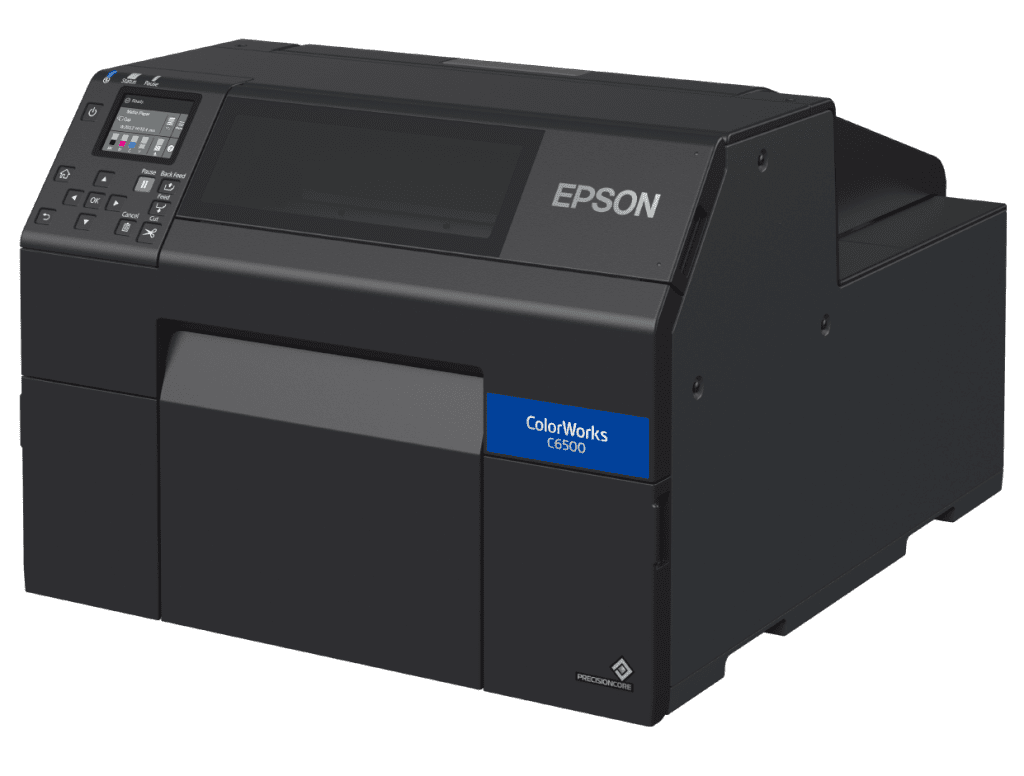 30 YEARS EXPERIENCE
We know everything there is to know about Adhesive Material & Label Printing Machinery!
NEXT DAY DELIVERY
We offer next day delivery on machines and consumables when ordered before 12pm 
FINANCE CALCULATOR
Label Printer equipment leasing and finance – spread out the payment of your equipment.
BUY FROM US AND GET
✓ FREE Training
✓ FREE Telephone Support
✓ FREE Print Demonstrations
✓ FREE Wet Proofs
Upload artwork for sample
Customer satisfaction is important to us, thats why we offer samples of your artwork printed on your choice of Label Printer. Dont worry if you dont have your label designed yet – we can help with that to, we have our own in house designer that would be delighted to create your next amazing product label.
Take a closer look at the EPSON C6500…
Media Flexibility
Epson C6500 series offer:
Glossy, matte and textured substrate support
Sizes from 25mm – 215mm
Unique movable sensor allows printing on any shape, without a second die cut
High Quality Printing
Epson C6500 Colour Label Printers print at
1200x1200dpi resolution
Match solid colours to ICC profiles and spot brand colours
Durable
Epson C6500 8″ Label Printers Achieve smooth gradations and fine lines with variable size droplet technology
Ultrachrome DL pigment inks for durable labels
BS 5609 certified when printing onto PE matt media.
Easy Operation
Load media from two different sides. Remove paper jams easily with the front and rear hoods
One-step variable data processing Large (2.7″) intuitive LCD display
Remote Configuration
Intelligent web interface for management of printer fleets
Tool to push changes to a fleet of printers
Software
Compatible with Windows, Linux and Mac/iOS
Integrates with SAP
ESC/Label, BarTender, CodeSoft, NiceLabel native drivers
Features
Take a closer Look at the Epson C6500 8″ Series
The new Epson C6500 ColorWorks models are engineered for mission-critical applications delivering high volume color labels for production use, with printing speeds of up to five inches per second.
Four and eight-inch models cover the full spectrum of label sizes, with two models being the first-ever color inkjet printers to support peel-and-present capabilities for fast hand or automated label application, and two models including an auto-cutter to create variable length labels and enable easy job separation.
'Time after time, business owners have expressed their frustrations with unused, pre-printed labels and the money wasted when label designs or requirements change. These new printers will allow companies to eliminate the need for pre-printed labels, preventing material and monetary waste. In addition, adding color to a label can improve brand recognition and process efficiency and reduce errors,' Andy Scherz, senior product manager, Commercial Label Printers at Epson America. 
Epson C6500 Series Versatile, on-demand Colour Label Printers
Enhanced Productivity
Print speeds of up to 5IPS (Inches per second)
Reliable
Epson's high quality build & design
Durable Labels
Using the pigment ink & the correct material you can achieve BS 5609 certified labels
Auto Cutter Option
Epson C6500Ae comes standard with auto cutter
Peel & Present Option
Epson C6500Pe comes with the ability to separate the backing material from your label for fast application as you're printing.
Book in for a Demo
Customer satisfaction is important to us, that's why we always welcome the opportunity to show our customers what our machines can do for you.
Demonstrations ensure we are matching you to the most suitable machine fit for the purpose of your business requirement. 
Come and see what the range of inkjet machines can do for you.
Dukinfield, Manchester
Monday-Thursday : 8.30am - 5pm
Friday : 8.30am - 3.45pm
If you would like to come and have a look round and discuss your self adhesive needs